Precast Concrete Batch Plants
JEL Concrete Plants offers a simple, yet brilliantly designed decumulative concrete plant for precast concrete operations large and small. Whether you're making cast bird baths for yards or large cast forms for precast and prestress concrete, we have a plant for you.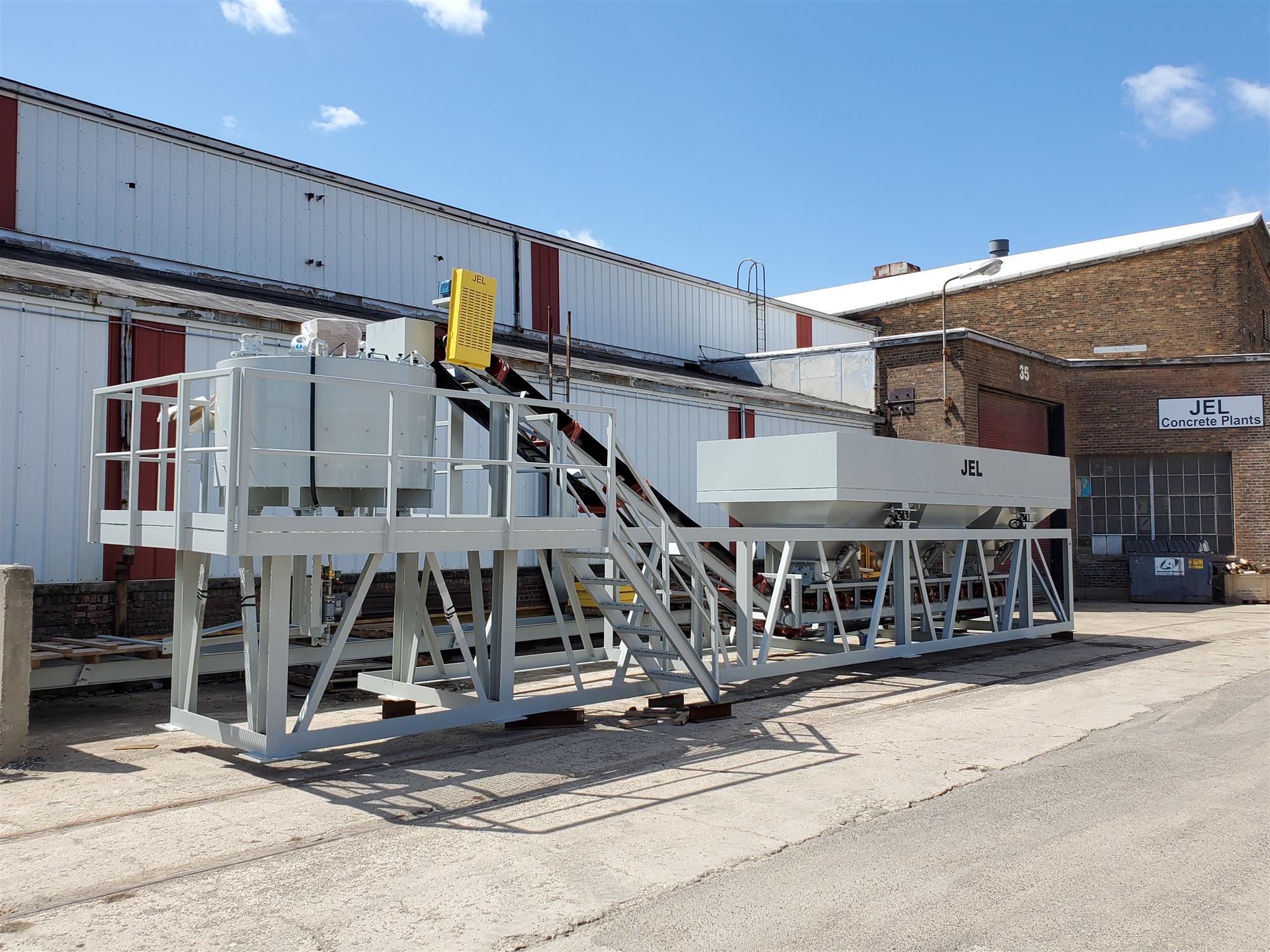 Built in southeastern Wisconsin with US-made steel and high-quality components, our precast concrete plants offer a cost-effective solution for any precast concrete business. We build our precast concrete plants with the features and equipment you desire. Choose from planetary mixers sized accordingly (1/3 cubic yard to 5 cubic yards) or twin-shaft mixers (1/2 cubic yard to 12 cubic yards).
We offer both high-production and low production Decumulator precast concrete plants, with the option to customize either to your specific needs. Contact us at (866) 535-6646 to discuss your specifications, or email us to request a quote. We will build the Precast concrete plant you want.
Features and Benefits
Storage Capacity Options. Single or multiple compartment decumulative bins. For lower production, each combination bin/scale holds at least 10+ tons of aggregate. For higher production, the standard bin starts at 20-tons with 30-ton and 40-ton upgrades available so you have ample storage capacity to keep your mixer full and mixing at all times. .
Low Profile Design. Our low profile scale/aggregate bins can be charged by most front end loaders and will fit through standard roll-up doors to allow easy setup inside buildings.
Engineered for Expansion. Our standard 20-ton aggregate bin can accommodate any number of aggregates, but you can also add one or more bins without the need for a major retrofit or rebuild.
Planetary Concrete Mixer. Far superior to pan mixers, the low, wide body and tall mixing paddles of a planetary mixer provide exceptional mix quality in the least amount of time.
Learn the Costs of Building a New Precast Batch Plant
As one of the top manufacturers in the concrete industry, we can give you a quote on what it will cost to build a new precast plant. That doesn't help you determine the ROI that you can expect. Use our ROI calculator to figure out what you can expect from your precast plant after assembly is completed.
Frequently Asked Questions About Precast Concrete
What are the advantages of precast concrete plants?
Precast concrete allows for the concrete to be molded into the desired shape offsite & transported to the job site. This allows for the pieces to be made before the start of the job, saving time while on the site.
When is precast concrete the right solution?
Precast concrete excels at creating large structural pieces & is very useful when building large structures such as bridges & skyscrapers, or when a large number of pieces are needed such as pipes & blocks.
What is the lifespan of precast concrete?
Depending on the wear & tear that the concrete receives will affect its lifespan. Typically you can expect the concrete to last between 50 to 100 years.
Typical Specifications
185 bbl. up to 1200 bbl. Cement Silo
1/3 cu yd. up to 5 cu. yd. output Planetary Mixer
1/2 cu yd. up to 12 cu. yd. output Twin-Shaft Mixer
Cement batcher sized for your mixer
1, 2, 3, or 4 aggregate bins
18″ - 36" batching transfer conveyor
1.5", 2″, or 3" water meter or weighed water
Planetary concrete mixer with sizes ranging from 1/3 cu. yard output to 5 cu. yard output

wide body + tall mixer paddles = fast and complete mixing action without dead zones
Large fully sealing discharge doors
1, 2 or 3 discharge doors
Optional mixer washout system

Automatic Batching Control System
5 days setup supervision / onsite training
Popular Options
Weighed Water – Water holding tank gravity feeds weigh hopper. Includes level sensors, load cells, and water shut-off valve.
Larger Silo / Split Silo
30 and 40-ton aggregate bins
Weigh Belt
Customization available by request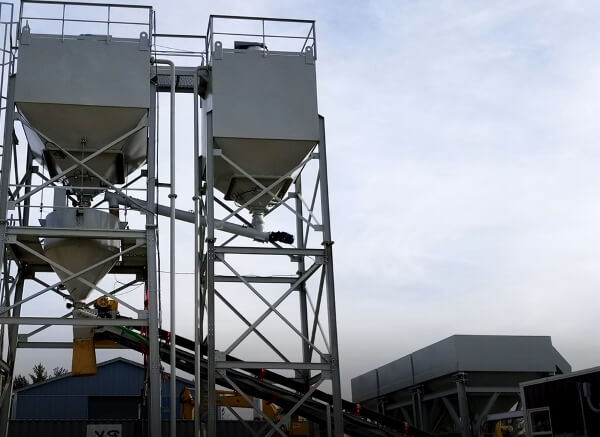 For a new wet mix precast concrete plant system – contact FESCO Direct
FESCO Direct is our partner in sourcing and distributing precast concrete batch plants for sale. If you're looking to build a new system, get in touch with them and they'll coordinate all equipment manufacturers to facilitate construction.