Stationary
Ready Mix Concrete Batch Plants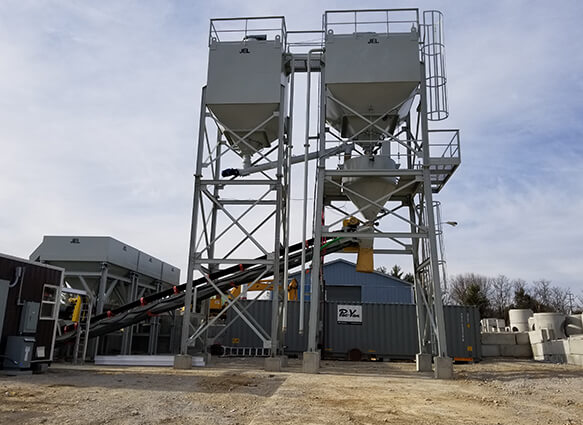 JEL Concrete Plants gives you the option of starting big with a high production Ready Mix plant, or starting small and expanding your operation as your business grows. While we offer a variety of plant configurations, our engineers will also work with you to customize a batch plant to your needs.
As with all JEL Concrete Plants products, our stationary batch plants are built entirely in our Milwaukee, Wisconsin facility using locally sourced American steel and high-quality controls and parts. All JEL ready mix batch plants are designed to maximize your productivity and profitability. Contact us to discuss your specific needs, or download our ROI calculator. We will build the Ready Mix concrete plant you want.
Stationary transit mix – dry. For ready-mix concrete producers looking to maximize production
Stationary central mix – wet. For high production operations working with ready mix trucks.
Why JEL Concrete Plants is Your Best Choice
Our engineering staff has over 50 years of combined experience designing concrete batch plants and material handling equipment for a wide range of applications. Many of the concrete plant designs and principles used by our competitors were actually designed by our engineers before starting their career with us.
The manufacturing efficiencies we have developed enable us to offer our products at significantly lower prices than our competitors, with no compromise made to quality. We offer an unbeatable value for both start-up operations and established concrete producers.
We will build the Ready Mix concrete plant
you want.
Not seeing what you want? Call us at (866) 535-6646 to discuss your specific needs. Each of our concrete plants can be customized to your specifications. Add more cement batchers, a larger silo, bigger transfer conveyor… whatever!
Ready Mix Concrete Batching Plants